Bingo halls and bingo clubs locator, country index:

(Directory listing. Use this form to add, to update or to remove a Bingo Hall listing.)
Bingo hall rules guidelines and rules example posted at bingo halls
Rules guidelines
Bingo halls do not operate exactly in the same way and therefore the rules may differ. Read the posted rules thoroughly of the bingo hall you are about to play in, before the session begins. Look out for any extra printed rules for the night, as these will supersede the normal posted rules.
Play it right by following the rules and do not attempt to cheat by altering a bingo card. Bingo callers are experienced at detecting an altered card and bingo managers are likely to prosecute you.
If you have BINGO, it is up to you to stop play before the next number is called by announcing BINGO making sure that the caller can hear you. If the caller has already started announcing the next ball, it is too late for you to call BINGO, or if the caller closes the game and drops the balls, a missed BINGO is no longer valid.
When BINGO is called, an assistant, called a 'floor walker', will come to your table and will call out the winning numbers for the caller to verify. If two or more players call BINGO on the same number, the prize is split evenly between them. Disputes are rare but if one pops up, the bingo hall manager usually has the final say.
Rules example posted at a bingo hall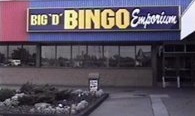 The following list of rules are an example of what probably most bingo halls require:
Player's responsibility to check all items before entering the bingo hall. Also, any specials not played at time of game will not be reimbursed.
The Bingo Hall will not replace any missing bingo specials, birds, etc. after first regular game.
You must have Bingo on the last number called. When the caller closes game, any overlooked bingos will be considered invalid.
When a caller begins announcing the next balls drawn, it is too late to Bingo on previous number.
Player's responsibility to stop the game when he or she has a bingo.
You must have receipt in front of you at all times.
Must be 18 years of age to play bingo, no one under 18 is allowed on the premises.
No one is allowed in after game number --.
Paper specials cannot be torn in half.
Absolutely no carry-ins.
No alcoholic beverages will be allowed.
TAKE NOTE OF ALL EXITS in the building.
The Bingo Hall reserves the right to retain all winning sheets to publicize winners. These rules are posted here for your convenience; however, always check the rules at the time you are playing in case of any changes because the rules at the time you are playing are the ones in effect.
(Above rules courtesy Oneida Bingo.)
---
Great gambling information site
Use the "Main Menu" on the top right margin to explore this site. This is a comprehensive gambling information site with advice on winning, how to gamble, Betting systems, gambling articles, world land-based casinos directory, bingo halls directory, casino reviews (reviewed and rated), the best Online casinos, free online games, and lots of gamblers information and resources.
Topics covered include game rules, how to play, how to win, betting strategies, gambling tips, glossary, on: Blackjack, Roulette (showing Table layouts of American, European and French roulettes and also the fast-play Roulite version), Poker classic and variants including Texas hold'em and Let-it-ride, Craps (dice game), Jackpot slots, Videopoker, Video games, Baccarat, Keno, Lotto/Lottery, Powerball, Bingo, Sports betting, Horse and Greyhound racing (including racetracks, race programs and results), and new gambling games.
This is the gambling website with lots of information and resources as well as helpful advice and frequent updates thanks to your helpful feedback.

Bingo halls

Advice
Resources
* Bingo halls
Facilities
Home ¬ Start here!
All about...
---