Let it ride poker:
Other Games (Main Index)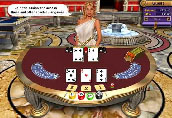 Game summary
Let it ride is a poker variation. It is really a variation of 5-card stud poker. The game is played with a standard 52 card deck. Originally developed by ShuffleMaster Gaming (the company that makes automatic card shuffling machines), it was first introduced to the casinos in 1993. The game is played on a table similar to blackjack and up to seven players can play at the same time. The game is slower than blackjack and has a potential for high payouts.
In let it ride poker, you play against a pay schedule (as you do in videopoker), that is; your primary and only goal is to get a good poker hand. There are three circles in front of each player on the table. The circles are marked with the numbers 1, 2 and $ and are the spots where you place your three bets. The first and second bet are bets you can take back later in the game.
Each player receives three cards and the dealer receives two community cards but the dealer does not have a hand of his/her own. A player is not allowed to show or discuss his/her cards with other players at the table. Each player will be required to keep the three cards (face down) in full view of the dealer at all times.
How to play let it ride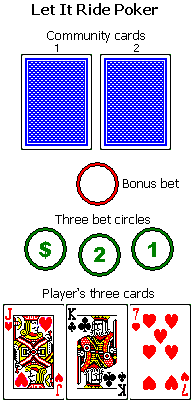 The object of the game is to get a pair of 10s or better using three cards dealt to the player and two community cards given to the dealer. After each player receives his/her cards the dealer discards one card leaving two cards face down in front of the dealer.
To start with, each player makes three bets of equal amount (a $5 table requires $15 to start play) and places them on the three bet circles 1, 2, $. The Bonus bet on the bonus circle is an optional side bet and is normally $1 (see "The side bet" below).
Then the dealer gives each player three cards and takes two community cards, all placed face down. The remaining cards are then placed in the discard tray. When this is finished the players are allowed to look at their three-card hand. At this point each player has the option to take back the bet in circle number one or Let It Ride.
After all the players have made their decisions the dealer will turn up the first of the two community cards which is in front of the dealer. This card is used as the fourth card for all the players' hands.
You now have the option of taking down your second bet or Let It Ride irrespective of your first decision. You may take down the second bet even if you let the first bet ride but you cannot take down or put the first bet back up.
After all the players make their decision for the second bet, the dealer will turn up the second community card, which completes the five-card hand for every player. At this point the dealer will pay all the winning bets. Players without paying hands lose whatever bets still remain in play. Winners are paid based on hands which have a pair of 10s or better with a pair of 10s paying even money, as follows:
Tens or better 1 to 1
Two pair: pays 2 to 1
Three of a kind: pays 3 to 1
Straight: pays 5 to 1
Flush: pays 8 to 1
Full house: pays 11 to 1
Four of a kind: pays 50 to 1
Straight flush: pays 200 to 1
Royal flush: pays 1,000 to 1
Note: Some let-it-ride poker tables have a maximum payout, say, of $25,000. In this case you could be paid less than what you have actually won. A $15 three-circle bet total ($5+$5+$5) for a dealt royal flush will net you the table maximum of $25,000 instead of $45,000.
House advantage 3.5%
Recommended strategy
The basic object of the game is to take back your circle 1 and circle 2 bets if you don't think you are going to get tens or better and let them ride if you have a good hand. Since you need at least a pair of tens to get paid, you should let your bets ride any time you have tens or better.
Let bet 1 ride if you have:
A winning hand (pair of tens or better - three of a kind)
A three-card royal flush
A three-card straight flush
Let bet 2 ride if you have:
A winning hand (pair of tens or better - two pairs, three of a kind)
A four-card flush
A four-card royal or straight flush
Four high cards
A four-card open-ended straight
(An open-ended possible straight is when you have four cards in sequence and there are two possible cards that will make your straight hand, one at each end, that is; there are possibly 8 cards in the deck that could make it happen.)
The side bet
There is an extra side bet you can make for a dollar when playing let it ride. The chip is placed in the red circle above the 3 betting circles. The side bet can be made for a bonus payoff when certain hands are made. The pay table for the bonus varies from casino to casino.
Basically, you can qualify for bonus payoffs for the side bet if you are dealt a straight, four-of-a-kind, a full house, a flush, a straight flush or a royal flush. The 'house edge' on the side bet ranges from 15% to 30%. As with most side bets offered by the casino, these are not favourable bets and should be avoided.
Related links
Poker glossary (Terminology)
Poker books
Online Poker sites
How to join a poker site
Introduction to online poker rooms
Other Games (Main Index)
---
Great gambling information site
Use the "Main Menu" on the right margin to explore this site. This is a comprehensive great gambling information site with advice on winning, how to gamble, betting strategy, listing the best online casinos and world land-based casinos directory.
Topics covered include game summary, rules, how to play, how to win, game strategy, betting systems, gambling tips, on: Blackjack, Roulette, Poker classic and variants such as Texas Hold'em poker, Craps/Dice, Slots and Videopoker, Baccarat, Keno, Lottery, Powerball, Bingo, Sports betting, Horse racing and Greyhound racing, and other casino games.
This is the gambling website with lots of information and resources as well as helpful advice and frequent updates thanks to your helpful feedback.