Index page of reviewed international land casinos and their ratings:


(Directory listing. Use this form to add, to update or to remove a Land Casino listing.)
Listed alphabetically by country. Reviews by

Jacob Kanzen, editor of ildado.com
Clicking on a 'country-name link' takes you to the country's casinos full listing, which include reviewed and non-reviewed casinos. The reviewed casinos on the country page show their review report and a photo of the property.
Casinos with 5-star rating are ranked among the best land casinos in hospitality, friendliness, gaming activity, standard of service, and the quality of their facilities.
( i ) = Useful country information is available on the country page, below the listings.
ootb = one of the best casinos
A = Automats casino - with automatic games only, without live table games facility.
t/o = taken over
[February 2015 Index last update]
(Photo, right, courtesy Bellagio Hotel & Casino, USA.)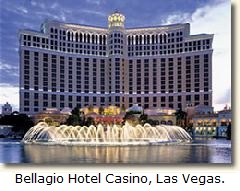 Review ratings
The reviewed casinos listed above that are rated 3, 4 and 5 stars, have live table games. Most of them also have automatic games such as slots/video machines, touch-bet roulette terminals and other unmanned automatic machines.
Casinos with 1 and 2 stars have automatic-games-only, called 'Slots Halls' or 'Automats Casinos', that offer exclusively slots/video games and other unmanned automatic games.
Related links

Global casino guide - Global useful general information on land-based casinos.


Macau casino guide - Asia, Macau gaming rules and regulations.


UK casino guide - UK gaming rules and regulations on land-based casinos.


UK cardroom guide - UK gaming rules and regulations on land-based card rooms.


USA casino guides - United States gaming rules and regulations, states index page.