Learn how to be a winner first.
Article by

Jacob Kanzen

Photo courtesy Hyatt Resorts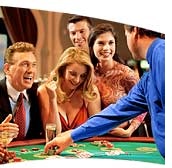 Gambling can be a form of entertainment if handled with the right attitude. A good approach is to aim to win but also be prepared to lose - and lose only the amount you planned to risk on that day. In other words, you have to accept the fact that you cannot force a winning outcome and you cannot win every time.
There are many devised gambling systems or methods aimed at overcoming the odds to give you an edge to make you a winner, but don't expect to systematically play your way to riches off the casinos. Apart from card counting at blackjack or applying the Martingale System with no maximum bet limit, all forms of gambling are conditioned by luck, and an astute gambler should make allowance for that.
The casinos have an in-built mathematical advantage on virtually every game and no mathematical betting system can overcome that. On the other hand, the player practically makes all the playing decisions including when to quit. Depending how you make those decisions will determine how successful or otherwise you are.
The casinos are there to let you have a shot at their money and they will have a shot at yours too at the same time. Have a planned betting strategy. Discipline yourself too. Limit your losses and control your winnings. Stick to your planned bankroll limit if you lose and don't be greedy if you are winning. Walk before you run. Learn how to be a winner first by a small margin.
Jacob Kanzen is the Editor of www.ildado.com gambling guide website, a long-time experienced gambler and roulette is his speciality. Get here

Kanzen's roulette ebook and free helpful advice - the best!
Gambling Articles (Main Index)
---
Great gambling information site
Use the "Main Menu" on the top right margin to explore this site. This is a comprehensive gambling information site with advice on winning, how to gamble, Betting systems, gambling articles, world land-based casinos directory, casino reviews (reviewed and rated), the best Online casinos, free online games, and lots of gamblers information and resources.
Topics covered include game rules, how to play, how to win, betting strategies, gambling tips, glossary, on: Blackjack, Roulette (showing Table layouts of American, European and French roulettes and also the fast-play Roulite version), Poker classic and variants including Texas hold'em and Let-it-ride, Craps (dice game), Jackpot slots, Videopoker, Video games, Baccarat, Keno, Lotto/Lottery, Powerball, Bingo, Sports betting, Horse and Greyhound racing (including racetracks, race programs and results), and new gambling games.
This is the gambling website with lots of information and resources as well as helpful advice and frequent updates thanks to your helpful feedback.
Gambling Articles (Main Index)